Best Nursing Programs in 2023 (Online & On-Campus)
If you're interested in caring for others both physically and mentally, becoming a nurse is a phenomenal choice. A career as a nurse can be full of variety and excitement as you care for others and improve their standard of living. Despite the rewarding journey that is becoming a nurse, many talented individuals lack the time or means to gain their education and become a registered nurse in the traditional manner. Whether you're already working full time, or live in a more remote area, earning your nursing degree online through one of the best online nursing programs in the country can make your BSN degree more realistic. Many intelligent and capable people are limited or kept from obtaining the degree simply from an inability to attend a physical college campus.
The need for registered nurses has been consistently growing over the past several years. Demand for qualified, capable nurses stems from a need for improved health care and expert medical service worldwide. Job stability and salary are also two other huge upsides for becoming a nurse. In continuing to work as a nurse over the years, the opportunity for a raise in pay is also common. Overall, the opportunity to care for the sick or improve someone's life by improving their health is a hugely fulfilling career and provides you with an incredible path for personal development. No matter your reason, becoming a nurse is a great choice that will pay off both financially and in other aspects of life.
If you're in a non-traditional situation, the increased trend toward advanced online RN to BSN program could be a tremendous opportunity for you! Hundreds of universities across the nation offer top-tier registered nursing programs online, providing you with the education necessary to pass the NCLEX and start your career as a registered nurse. Completing your degree online allows you the flexibility of taking classes anytime and anywhere you choose based on your schedule. Work at the same time as finishing school, or study at a university across the nation! With the best schools offering the same education online as on campus, you can begin your path to a fulfilling nursing career with a quality nursing education. With that in mind, check out the best online BSN degree programs.
Here Are the Best Online Nursing Programs of 2023 (Online and On-Campus options)
1. Georgetown University
This school, based in Washington DC, is renowned for its prestige and boasts the very highest NCLEX pass rate on this list. At greater than a 99% pass rate, nearly every online nursing master's student from Georgetown University passes the NCLEX. The school offers four different master's program options ranging from a year and a half to a little over two years to complete. To create an engaging online student atmosphere, the university uses live seminar technology and provides students with the opportunity for clinical experiences created in partnership with program faculty.
99.2% NCLEX Pass Rate

4 Online Programs

Offers one of the best online nursing masters programs

$37,935 Tuition Cost
2. Duke University
Duke University began offering at-distance nursing programs in 1995 and has continued the tradition of providing flexible school options for students across the country since. All of the course material is recorded, allowing students to complete material at their own pace. The university relies on its experienced faculty who have over 285 years combined of online education experience. The program also boasts six of the top ten majors and specializations in nursing programs.
98.39% NCLEX Pass Rate

12 Online Programs

$31,360 Tuition Cost
3. University of Central Florida
As one of the largest universities in the nation, the University of Central Florida hosts over 63,000 students in more than 200 different program areas. The nursing program at UCF was established in 1979 with online programs coming later but still made up of the same distinguished and experienced faculty members. Online students living somewhat close to campus also have the option of mixing online and on-campus schooling. Most of the ten online programs can be completed in about five semesters and students can take advantage of a number of specializations and degree paths.
Nursing program in Florida

98.06% NCLEX Pass Rate

10 Online Programs

$11,503 Tuition Cost
4. Drexel University
Drexel University, based in Philadelphia, Pennsylvania offers the best variety of online nursing programs on the entire list. The College of Nursing and Health Professions had over 5,000 students pursuing one of the more than 30 program options. Another flexibility advantage that Drexel offers students is the capability of transferring up to 135 of the required 180 quarter credits. For someone already well advanced in their education, but required to put it on pause, Drexel is a phenomenal option.
97.20% NCLEX Pass Rate

31 Online Programs

$28,665 Tuition Cost
5. Rush University
Rush University was founded in Chicago in 1972 and sits as part of the Illinois medical district. The university is a private health sciences institution providing more than 40 degree and certificate programs. Both full time and part-time programs are available to the online student with lectures being recorded to allow students the flexibility of completing coursework at their leisure. Rush University also enjoys the distinction of having recently been named one of the nation's top young universities.
97% NCLEX Pass Rate

14 Online Programs

$12,698 Tuition Cost
6. University of Nevada-Reno
The University of Nevada-Reno is a top-tier online program for a Doctor of Nursing Practice degree. Although the degree is the only one offered at the school, the unique, practice-focused degree and the lower cost of tuition boosts this university's ranking. Students are required to spend a few days on campus each year for meetings, but these reunions encourage a more tightly-knit online student community. With the focus on practice, students become capable nurses with important critical-thinking skills leading to success in demanding real-life environments.
96.59% NCLEX Pass Rate

1 Online Program

$15,600 Tuition Cost
7. Old Dominion University
Old Dominion University is located in Norfolk, Virginia and is widely recognized for its contributions in a number of different fields. The 20,000 undergraduate and 5,000 graduate students are exceptionally involved in on-campus programs and groups creating a unique and vibrant student atmosphere. Online students enjoy a great depth of experience from the university whose nursing program was established in 1967. Online nursing programs from ODU are consistently ranked in the top 25% nationally and 99% of graduates from the nursing school are employed within one year of graduation.
96.42% NCLEX Pass Rate

14 Online Programs

$40,200 Tuition Cost
8. University of South Carolina
Nearly 10,000 nurses have graduated from the University of South Carolina's College of Nursing since it became the state's first nationally accredited baccalaureate nursing program in 1957. It is accredited by both the Southern Association of Colleges and Schools Commission (SACS) and the Commission on Collegiate Nursing Education. The university, located in Columbia, SC, provides undergraduate and graduate nursing programs, both on campus and online. Our online RN-BSN, Masters and Doctor of Nursing Practice programs allow additional flexibility for the working nurse and have been nationally ranked for the last four years. Earning $12 million in new grants in the past three years, the College of Nursing emphasizes the importance of innovation, research and patient care in all our programs.
9. University of Texas—Tyler
The University of Texas-Tyler is a great schooling option for anyone who already has their associate degree in nursing. The program can be completed entirely online in as little as a single year with clinical experiences in the student's local community. The university represents students from 45 different states and 58 different countries and is a widely recognized top online nursing program. The program curriculum specifically focuses on leadership, professional development, and community nursing. The school also offers 7 online programs and 3 online certificates: RN-BSN, Informatics, Quality & Safety Certificate & MSN, MSN Administration, MSN Education, MSN/MBA, PhD, DNP, and Post MSN Certificates: Administration and Education.
96% NCLEX Pass Rate

1 Online Program

Online RN-BSN program in Texas
$9,350 RN-BSN Tuition Cost (3-semester program)
10. Michigan State University
The nursing program at Michigan State University first began in 1950. Currently, the university offers six different online programs and has research specialties in nutrition, cancer, gerontology, obesity and associated conditions, chronic illness management, and physical activity. The program requires that students complete 117 clinical hours, but allows students the flexibility of completing the hours at local sites. Michigan State currently strives to join with professional partners to create new and engaging educational opportunities for students.
94.55 NCLEX Pass Rate

6 Online Programs

$9,608 Tuition Cost
11. University of Illinois at Chicago
The University of Illinois at Chicago was established in 1913 with the nursing program established in 1951. The university values their accreditation from both The Commission on Collegiate Nursing Education and the Accreditation Commission for Midwifery Education. The online nursing program provides impressive program flexibility in allowing completion in any time frame between sixteen months and four years. This specific program is especially expensive with tuition costing $500 per credit on the lower end of its price range.
94% NCLEX Pass Rate

11 Online Programs

$60,000 Tuition Cost
12. University of Alabama
As the oldest public university in the state, the University of Alabama hosts more than 37,000 students pursuing a variety of options for both graduate and undergraduate degrees. Online students can choose from 7 different nursing programs with full-time and part-time options. At an annual tuition cost of $8,475, this school is one of the most affordable online nursing program options in the country. Alabama offers degrees at bachelor's, master's, and doctorate levels.
93.60% NCLEX Pass Rate

7 Online Programs

$8,475 Tuition Cost
13. University of Colorado—Denver
The University of Colorado-Denver is another school that offers degrees at bachelor's, master's, and doctorate levels completely online. Financial aid is common at this university and the school is also considered military-friendly and offers special benefits to veterans and individuals on active duty. The university's nursing program was founded in 1898 and has nearly 1,000 students enrolled on an annual basis. Along the same lines, the college of nursing holds diversity and inclusiveness as one of its core values.
14. Ohio State University
Ohio State University, located in Columbus, Ohio is another large university with a student body of over 59,000 students. The college of nursing was founded in 1914.  A unique feature and an important consideration for potential online students is that all of the classes are held synchronously, allowing for a more engaging learning experience with real-time student-professor interactions, but less flexibility in when students can complete coursework. Online students do have the opportunity to participate and practice in the OSU college of nursing clinic, giving students valuable real-life experience.
93.27 NCLEX Pass Rate

1 Online Program

$57,000 Tuition Cost
15. Regis University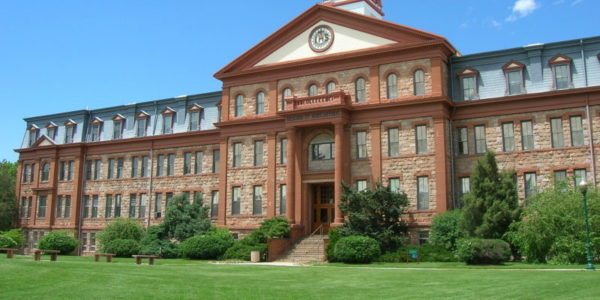 Regis University in Denver, Colorado is another slightly more affordable option for online nursing students. The university allows for completion of core classes at any accredited university while completing the nursing curriculum online. For students looking to finish their degree quickly, Regis University offers an accelerated BSN capable of being completed in as little as twelve months. Regis is another school that offers special military benefits. Online students can choose from eight different online programs.
93.19% NCLEX Pass Rate

8 Online Programs

$16,050 Tuition Cost
16. St. Louis University
St. Louis University is one of the oldest Jesuit universities in the nation, founded in 1818. With a mixed approach to theory and practice, the university caters to students seeking degrees at the bachelor's, master's, post-master's, and doctorate levels. SLU claims to have developed the first accelerated BSN and comprehensive online MSN. The school offers 11 distinct degree programs and counts on more than 50 experienced faculty members for master instruction.
92.60% NCLEX Pass Rate

2 Online Programs

$41,540 Tuition Cost
17. Arizona State University
As the largest university on this list, Arizona State University in Phoenix, Arizona hosts more than 98,000 students with more than 24,000 of those students online. ASU offers great flexibility for completing coursework online and has a special focus on helping transfer students apply credits they've already earned elsewhere. The RN-to-BSN program takes between 15 and 18 months to complete online.
92.00% NCLEX Pass Rate

1 Online Program

$16,530 Tuition Cost
18. Clarkson College
Clarkson College in Omaha, Nebraska actually began as a nursing school rather than a college. In 1888, the school was established as the first nursing program in the state of Nebraska. Now, the accredited college offers 13 online nursing programs at one of the most affordable rates in the country. Online students have options for completing degrees at the bachelor's, master's or doctorate degree levels. With an average student-to-professor ratio of 18:1, students enjoy a more tight-knit learning atmosphere and more intimate instruction from experienced and professional faculty.
91.82 NCLEX Pass Rate

13 Online Programs

$20,028 Tuition Cost
19. The University of Saint Francis
The University of Saint Francis is another smaller school that still offers an exceptional online nursing education. With a variety of possible online degrees and affordable tuition, this school is a great option for the online nursing degree seeker. Based in Fort Wayne, Indiana, Saint Francis offers an RN-to-BSN fast-track program, five different master's degrees, and three different doctorate degrees. To assist with the cost of education, online students can receive financial aid in a number of different forms including scholarships, grants, and military discounts.
91.4% NCLEX Pass Rate

9 Online Programs

$19,840 Tuition Cost
20. University of West Georgia
The University of West Georgia is the sixth largest public university in Georgia and the nursing program is in Carrollton, Georgia. The school has slowly grown over the years from a district agricultural and mechanical school to a two-year college to a four-year college, and finally to an accredited university in 1996. Just over 13,000 students represent 43 states and 74 different countries at WGU. The University offers three different online programs, one at each of the three levels of bachelor's, master's and doctorate degrees. UWG makes an online nursing degree at any level more accessible.
90.73% NCLEX Pass Rate

3 Online Programs

$15,145 Tuition Cost
21. St. Xavier University
St. Xavier University has been one of the top-ranked online nursing programs in the nation for a number of years. St. Xavier is an exceptional school having been named a Center of Excellence in Nursing Education by the NLN. St. Xavier is one of only nine institutions to have achieved this distinction and is part of a shorter list to have achieved the honor for three consecutive terms. With four online programs, St. Xavier offers online students the option of two nursing certificates, an RN-to-BSN degree, or an MS in Nursing Programs degree.
88.00% NCLEX Pass Rate

4 Online Programs

$27,360 Tuition Cost
22. University of Miami
This Florida university is well known for its academic and athletic achievements and for its location in sunny Miami. The University of Miami offers great variety in general online programs including a few different bachelor-to-master degree options and an RN-to-BSN degree. The RN-to-BSN specifically can be completed in as little as five consecutive semesters. Online nursing students are also benefitted by the requirement of completing clinical hours in one of the facilities included in the university's network of over 170 clinical partners.
88% NCLEX Pass Rate

3 Online Programs

$45,600 Tuition Cost
23. University of Cincinnati
The University of Cincinnati is unique in the way it tries to involve all its students, including online students. Online students at this Ohio university have access to all of the same student services provided to those on campus and are encouraged to participate in on-campus student activities where possible. The online nursing degree has a declared emphasis on teaching students to collaborate and find success through combined efforts. One impressive facet of the overall online flexibility offered by the school is the option for either full-time or part-time enrollment and six different start times during the year.
87.72% NCLEX Pass Rate

6 Online Programs

$28,754 Tuition Cost
24. University of Massachusetts—Amherst
As one of the New England area's largest universities, UMASS-Amherst hosts more than 29,000 students pursuing one of 220 different degree programs. One unique aspect of the UMASS online nursing program is its focus on diversity and cultural proficiency. The school focuses on providing education to prepare students to have professional success with varying circumstances and pressures. Online students with this school have the option of an online RN-to-BSN or a Doctor of Nursing Practice.
86% NCLEX Pass Rate

2 Online Programs

$22,500 Tuition Cost
Best Nursing Programs Ranking Method – Online & On-Campus
Any of the schools provided on this list are incredible options for anyone considering pursuing an online nursing degree at any level. The order of the list was determined mainly by NCLEX exam pass rates, although the number of online programs, tuition cost, and overall flexibility also played a role in the inclusion and order on this list.
We know that finding the best colleges with nursing programs for your unique situation and interests can be a difficult task. That's why we've evaluated thousands of school based on the factors most important to you. For more information about our evaluation and ranking system, as well as other lists that were ranked by the factors most important to you, see our methodology page.
If you're looking to pursue an online nursing education, take a look at any of the fabulous schools on this list. If your school isn't listed here, please reach out here to discuss the inclusion of your institution on a future list.
Sources:
https://www.usnews.com/education/online-education/nursing/rankings