List of the Best Nursing Schools in Houston in 2023
Are you considering a career in nursing and looking for the best schools in Houston? It's crucial to choose a nursing program that will provide you with the education and training you need to succeed in this rewarding field. With numerous options available, selecting the right school can be an overwhelming task.
Houston is known for its world-class medical facilities and healthcare institutions. This bustling city offers a plethora of nursing programs, each with its strengths and specialties. However, not all nursing schools are created equal, and finding the right fit for your career goals and aspirations is essential.
To help you navigate the path to success in your nursing career, it is important to carefully research and select the best nursing schools in Houston. By choosing a reputable institution with a strong curriculum, experienced faculty, and excellent clinical opportunities, you can set yourself up for a successful and fulfilling career in nursing.
In this article, we will explore some of the top nursing schools in Houston, providing valuable insights that will assist you in making an informed decision for your future.
Factors to Consider When Choosing a Nursing School
1. Accreditation
When choosing a nursing school, accreditation is crucial. It is important to ensure that the nursing program you are interested in has accreditation from a recognized accrediting body. This accreditation guarantees that the curriculum meets national standards and that the education you will receive at the school of nursing will be of high quality. By selecting an accredited nursing education program, you can have confidence that you are getting the necessary knowledge and skills to excel in the field of nursing.
2. Program Options
When considering a nursing degree, it is essential to explore the program options offered by the nursing school. One of the options to consider is whether they offer a bachelor's degree in nursing (BSN), an associate degree in nursing (ADN), or both. A BSN program typically provides a more comprehensive and in-depth education in nursing, preparing graduates for leadership roles and offering opportunities for specialization.
On the other hand, an ADN program is usually more focused on the technical skills required for entry-level nursing positions. Therefore, it is crucial to determine which program best aligns with your career goals and educational needs. Additionally, some nursing schools may offer advanced programs, such as a master's degree program, for those looking to further specialize or advance their nursing career.
Clinical Experience Opportunities
Nurse practitioners play a vital role in the nursing profession and nursing practice. As a nurse practitioner, it is essential to receive thorough training and gain practical experience to provide the best possible patient care. When considering a nursing school, it is crucial to prioritize programs that offer ample clinical experience opportunities.
By partnering with local healthcare facilities, these schools provide nurse practitioners with real-world settings to apply their knowledge and develop their skills. This hands-on experience not only enhances their understanding of nursing practice but also prepares them to tackle the challenges they will face in their future careers.
Choosing a nursing school in Houston that prioritizes clinical experience can greatly benefit nurse practitioners in their professional development and ultimately contribute to their success in the field of nursing.
4. Faculty Qualifications And Experience
When considering a doctoral program in nursing, it is important to carefully research the qualifications and experience of the nursing faculty. Look for faculty members who have relevant clinical experience in the field of nursing, as this can greatly enhance your learning experience.
Additionally, find out if they are actively involved in nursing research, as this can provide valuable mentorship opportunities and contribute to the advancement of the nursing profession. By selecting a program with experienced and knowledgeable faculty members, you can ensure that you receive the highest quality education and support in your journey toward becoming a registered nurse with a doctorate.
5. NCLEX Pass Rates
Registered nurses who are planning to advance their careers and enroll in a nursing practice program need to carefully consider the school they choose. One crucial factor to assess is the school's success in preparing students for the NCLEX, the licensing examination for nurses in the United States.
By reviewing the school's NCLEX pass rates, prospective students can gauge the effectiveness of the nursing program in adequately preparing students for the licensing process.
A high pass rate indicates that the program provides the necessary knowledge and skills required to succeed in the examination, making it a favorable choice for registered nurses looking to further their education and excel in their careers.
6. Resources And Support Services
Consider the resources and support services available to nursing students. Are there tutoring services, study groups, or academic advisors who can assist you throughout your nursing journey? A supportive environment can greatly contribute to your success and well-being.
7. Location And Cost
Factor in the location of the nursing school and any associated costs. Consider whether you prefer a school close to home or if you are willing to relocate. Additionally, research tuition fees, financial aid options, and any additional expenses such as textbooks and lab fees.
Choosing a nursing school is a significant decision that will shape your future career in healthcare. By considering these factors, you can make an informed choice and select a nursing school that best meets your educational and professional goals.
Top Nursing Schools In Houston
When it comes to pursuing a career in nursing, Houston, Texas is a great place to be. The city boasts some of the best hospitals in the state, providing excellent opportunities for nurses to thrive. If you're considering becoming a nurse and are looking for the best nursing schools in Houston for 2023, you're in luck.
Let's explore the top nursing schools in Houston, the programs they offer, and other important information that will help you make an informed decision about your education and future.
  1. University Of St. Thomas
 The University of St. Thomas's Carol is known for its holistic approach to nursing. The program focuses on healing the body, mind, and spirit of each patient, rather than just focusing on the physical aspects. This holistic approach is integrated throughout the curriculum, teaching students to make quick and informed decisions, as well as develop excellent written and oral communication skills.
The university's Center for Science and Health Professions provides state-of-the-art facilities and equipment, ensuring that students receive a hands-on learning experience. The University of St. Thomas offers a four-year Bachelor of Science in Nursing (BSN) program, as well as a Doctor of Nursing Practice (DNP) degree for baccalaureate degree holders.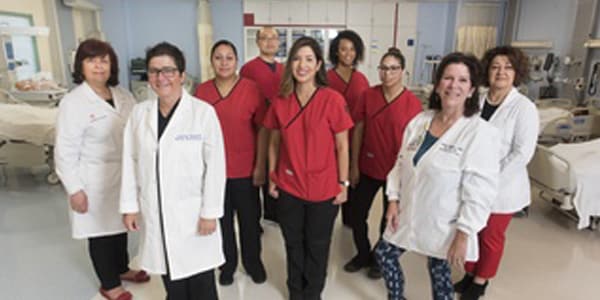 2. University Of Texas Health Science Center At Houston
The Cizik School of Nursing at the University of Texas Health Science Center offers a wide range of nursing programs to suit the career goals of aspiring nurses. The Pacesetter BSN program is a popular choice, allowing students to complete their degree in as little as 15 months. The university also offers an RN to BSN program for registered nurses with an associate degree. 
For graduate students, there are various options available, including Master of Science in Nursing (MSN), Doctor of Nursing Practice (DNP), and Ph.D. in nursing programs. The Cizik School of Nursing provides students with a comprehensive education that prepares them to think critically and make informed nursing decisions in any setting.
 3. Houston Baptist University
 Houston Baptist University's School of Nursing and Allied Health offers on-campus and online baccalaureate and graduate degree programs such as baccalaureate degree programs. The nursing programs are accredited by the Texas Board of Nursing (TBON) and the Accreditation Commission for Education in Nursing (ACEN). HBU has affiliations with the Roman Catholic Church and offers specialized programs in pre-health, Thomistic Studies, pre-law, business, and engineering.
For graduate students, HBU offers a Master of Science in Nursing (MSN) program that can be completed through a hybrid format, allowing students to attend some courses on campus and complete others online. HBU's exceptional faculty and reputation make its graduates highly respected in the nursing field. 
 4. University of Houston – Downtown
 The University of Houston's College of Nursing is among the top nursing schools in Houston and ranks in the top five percent in the country. The college has received full accreditation from the Commission on Collegiate Nursing Education and is recognized as an Academic Progression school in Texas.
The University of Houston is the third-largest institution of higher education in Texas and offers over 300 degree programs. The nursing program at UH boasts a 100% NCLEX – RN pass rate for several years.
5. Lone Star College Montgomery
 Lone Star Montgomery's Nursing Department offers an Associate Degree in Nursing (ADN) program, a bridge program from LVN to ADN, and a Licensed Vocational Nursing program. The nursing programs have received accreditation from the Accreditation Commission for Education in Nursing (ACEN). 
6. The University of Houston – Clear Lake
The University of Houston – Clear Lake's College of Human Science & Humanities offers a comprehensive Houston nursing program for nursing students. The program aims to provide a holistic nursing education that addresses the physical, emotional, and mental well-being of patients.
The nursing curriculum emphasizes the importance of patient-centered care and equips students with the necessary knowledge and skills to provide high-quality healthcare.
In addition, the nursing program offers a bridge program from RN to BSN, allowing registered nurses to further advance their education. With accreditation from ACEN, the University of Houston ensures that its nursing programs meet rigorous standards of excellence.
Whether you are a prospective nursing student or a registered nurse looking to enhance your career, the University of Houston's nursing program offers a solid foundation for a successful career in holistic nursing.
7. Lee College
 Lee College offers an Associate Degree in Nursing (ADN) program that prepares students to sit for the NCLEX – RN nursing examination. The program is accredited by ACEN and accepts both inexperienced applicants and transfer students. Lee College serves over 7,500 students and covers more than 40 acres in the greater Baytown area.
 8. Houston Community College
 Houston Community College is a great option for future nurses in the Houston area. They offer an Associate of Applied Science in Nursing degree program that is perfect for those who are just starting in the field. In addition, they also have a bridge program for those who are already registered nurses and want to further their education. 
These nursing programs are approved by the Texas Board of Nursing, ensuring that students receive a high-quality education and are well-prepared for their future careers. Being the second-largest community college system in Texas, Houston Community College has multiple campuses conveniently located throughout the Houston metropolitan area, making it accessible for Houston residents who are interested in pursuing a nursing major.
 9. Alvin Community College
 Alvin Community College offers a transition bridge program from Licensed Vocational Nurse (LVN) to Associate Degree in Nursing (ADN), as well as an Associate of Applied Science degree in Nursing (AAS). The nursing accelerated program requires the completion of 60 credit units and has received accreditation from ACEN. Alvin Community College provides workforce and technical training programs along with adult education for working learners.
 10. San Jacinto College
 San Jacinto College offers several nursing programs, including a Licensed Vocational Nurse/Paramedic to ADN program, an RN to BSN program, and a generic ADN or LVN to BSN program. The college was a top 10 finalist for the Aspen Prize for Community College Excellence. San Jacinto College has five campuses and serves over 45,000 students in the greater Houston and Pasadena area.
Houston is home to excellent hospitals and nursing homes, providing ample opportunities for nurses. Some of the top hospitals in Houston include Memorial Hermann Southwest Hospital, Houston Methodist Hospital, and The University of Texas M. D. Anderson Cancer Center.
These hospitals offer outstanding career prospects and job security for nurses. Nursing homes, such as Seven Acres Jewish Senior Care Services, Inc. and The Vosswood Nursing Center, also provide employment opportunities for nurses in Houston.
  There is a strong demand for nurses in Houston due to the presence of renowned medical facilities and the increasing access to affordable healthcare. Nurses in Houston can expect a rewarding career, although it can be demanding and stressful, especially in fast-paced settings like trauma centers or emergency rooms. Nurses may also need to work weekends, holidays, and overnight hours, depending on the healthcare facility they are employed in.
Beyond the Classroom: Additional Resources And Support
1. Research Opportunities And Ongoing Professional Development
Research is a crucial component of academic growth and career development for nursing students. Many universities offer research opportunities specifically designed for nursing students to engage in research projects that align with their interests.
These research opportunities provide hands-on experience in conducting studies, analyzing data, and contributing to the advancement of nursing knowledge. Additionally, ongoing professional development is essential for nursing students to stay updated on the latest advancements in the field. Workshops, seminars, and conferences provide opportunities for students to enhance their knowledge and skills.
2. Mentorship Programs And Networking Opportunities
Mentorship programs play a significant role in the success of nursing students. Having a mentor who is an experienced healthcare professional can provide guidance, support, and advice throughout the academic journey. Mentorship programs can help students navigate the challenges of nursing school, offer career advice, and provide valuable insights into the nursing profession.
Networking opportunities, such as nursing conferences or professional association events, allow students to connect with experienced nurses and industry leaders. Building a network can open doors to potential job opportunities, internships, and collaborations.
3. Supportive Services For Nursing Students
Nursing school can be demanding and stressful, and students need to have access to supportive services to maintain their well-being. Counseling services are often available on college campuses to provide mental health support for students. Nursing students can benefit from counseling services to manage stress, anxiety, and burnout.
Additionally, career guidance services can assist students in exploring different career paths in nursing, providing information about job prospects, and offering resume-building workshops. Having a support system in place can greatly contribute to the success and overall well-being of nursing students.
Tips For A Successful Application
1. Start Early
One of the most important tips for a successful application to nursing school is to start early. Nursing programs are highly competitive and often have limited spots available, so it's essential to begin the application process as soon as possible. This will give you ample time to gather all the necessary documents, complete any required tests or certifications, and prepare your statement.
2. Research The Requirements
Before starting your application, take the time to thoroughly research the requirements of the nursing programs you are interested in. Each school may have specific prerequisites, such as certain science courses or a minimum GPA. Make sure you meet all the requirements before applying to increase your chances of acceptance.
3. Volunteer Or Work In A Healthcare Setting
Nursing schools highly value applicants with hands-on experience in a healthcare setting. Consider volunteering at a hospital, clinic, or nursing home, or even working as a certified nursing assistant (CNA) to gain valuable experience and demonstrate your commitment to the field. This can also provide you with valuable references and contacts within the nursing community.
4. Write A Compelling Personal Statement
Your statement is an opportunity to showcase your passion for nursing and why you are a strong candidate for the program. Take the time to craft a well-written and thoughtful statement that highlights your experiences, skills, and goals. Be sure to address any specific questions or prompts provided by the nursing school.
5. Obtain Strong Letters Of Recommendation
Letters of recommendation can play a significant role in the admissions process. Choose individuals who can speak to your abilities, work ethic, and potential in the nursing field. It's important to ask for recommendations from people who know you well and can provide specific examples to support their praise.
6. Prepare For The Admission Interview
If you are selected for an admission interview, it's crucial to be well-prepared. Research common interview questions and practice your responses. Consider enlisting the help of a mentor or trusted friend to conduct mock interviews with you. Dress professionally, arrive early, and be confident in showcasing your knowledge and passion for nursing.
7. Stay Organized And Submit Your Application On Time
Lastly, it's essential to stay organized throughout the application process. Keep track of all required documents, deadlines, and submission requirements for each nursing program you are applying to. Make sure to submit your application well before the deadline to avoid any last-minute technical issues or delays.
By following these tips, you will be well-prepared and increase your chances of a successful application to nursing school. Good luck on your journey to becoming a nurse!
FAQs
What Are The Different Types Of Nursing Programs Offered By Nursing Schools?
Nursing schools offer a range of programs to cater to different levels of education and career goals. Some common nursing programs include Licensed Practical Nurse (LPN) programs, Registered Nurse (RN) programs, Bachelor of Science in Nursing (BSN) programs, Master of Science in Nursing (MSN) programs, and Doctor of Nursing Practice (DNP) programs.
What Are The Prerequisites For Enrolling In Nursing Programs?
The prerequisites for nursing programs vary depending on the level of education and the specific school. However, common prerequisites may include a high school diploma or GED, completion of prerequisite courses in subjects like biology and chemistry, a minimum GPA requirement, and sometimes completion of an entrance exam such as the SAT or ACT.
How Long Does It Take To Complete A Nursing Program?
The duration of nursing programs can vary depending on the type of program and educational institution. LPN programs typically take around 1 year to complete, while RN programs can take 2-3 years. BSN programs usually take 4 years, and advanced nursing programs like MSN and DNP can take an additional 2-4 years.
Key Takeaway
Choosing the best nursing school in Houston is a critical step toward a successful nursing career. Factors such as accreditation, program options, clinical experience opportunities, and faculty qualifications should be carefully considered. Top nursing schools in Houston, like the University of St. Thomas and the University of Texas Health Science Center at Houston, offer comprehensive programs that equip students with the skills and knowledge needed to excel in the field.
By starting early, researching requirements, gaining hands-on experience, and writing a compelling personal statement, aspiring nurses can increase their chances of acceptance and set themselves on the path to success in the dynamic healthcare community of Houston. With dedication and the right education, a rewarding and fulfilling nursing career awaits in the vibrant city of Houston.