Best Nursing Schools in Central Florida in 2023 (Online & On-Campus)
If you're looking for a nursing school program in FL, you're in luck. Florida is considered the sunshine state for good reason. Filled with heat, sun, and plenty of beaches, there are endless things to do in Florida, which is important for nursing students who can spend quite a bit of their day in stressful situations. But with central Florida being home to beautiful parks, museums, amusement parks, and all sorts of outdoor activities, finding the best nursing schools in central Florida may not be such a bad idea. You could almost say you went to school in Paradise.
When looking for nursing schools, it's important to find one that will meet all of your criteria. That could mean location, specific nursing programs, scheduling such as night or weekend classes, as well as the cost and overall quality of the school. Even the surrounding ambiance may be important to you. To help out, we've compiled a list of nursing schools in central Florida. Whether you're looking for an RN to BSN nursing program in FL or another type of nursing program, you'll be sure to find an option below.
There are some requirements if you're seeking to get licensed in Florida. After passing your final exams in an accredited program, the Board of Nursing will need a $175 application fee as well as your fingerprints to get you started. Florida is not part of the Nurse Licensure Compact
Here are the top Nursing Schools in Central Florida:
1. University of Central Florida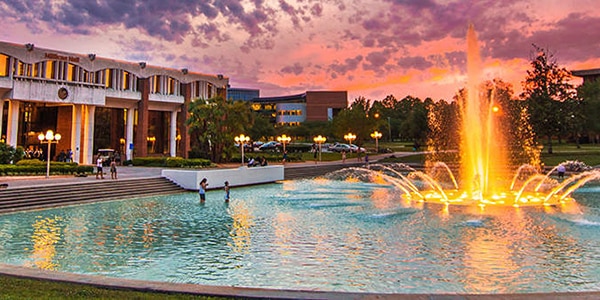 The University of Central Florida is known for its growing space program, but it's dedicated to providing talent to central Florida in all other areas as well. It is considered one of the top ten innovative universities through quality, access, impact, and value.
Tuition: $6,379
NCLEX Pass Rate: 95%
2. Advent Health University
AdventHealth University, formerly Adventist University of Health Sciences, specializes in teaching healthcare education in a faith-affirming environment. AdventHealth seeks to support and educate students to practice healthcare as a ministry.
Tuition: $7,650
NCLEX Pass Rate: 100%
3. Keiser University
Keiser University was founded in 1977 and is known as one of the best schools for veterans. Keiser offers 25 athletic teams, 100+ programs, and it impacts over 30,000 jobs in Florida. It is dedicated to its students and strives to improve every person to walk through their doors.
Tuition: $19,808
NCLEX Pass Rate: 94%
4. Orange Technical College
Orange Technical College is focused on improving students' lives and positively impacting the workforce in Florida. OTC provides the technical skills needed to start a career in a new industry, such as in healthcare, or gain skills to make you more marketable as an employee.
Tuition: $4,067
NCLEX Pass Rate: unavailable
5. Seminole State College of Florida
Seminole State College of Florida is ranked as one of the most affordable colleges in Florida as well as one of the top five colleges for graduation rate. Seminole is dedicated to its students and faculty and committed to providing high-quality healthcare education.
Tuition: $3,131
NCLEX Pass Rate: 96%
6. ECPI University
ECPI University offers hands-on instruction in a student-based curriculum. ECPI offers flexible class schedules to fit every students' needs and has an accelerated BSN program that will allow you to complete the degree in only 2 1/2 years!
Tuition: $6,648
NCLEX Pass Rate: 84%
7. Osceola Technical College
Osceola Technical College is home to trailblazers, innovators, and go-getters. They are committed to preparing students with the best skills and education in order for them to be prepared and successful in their future.
Tuition: $5,819
NCLEX Pass Rate: unavailable
9. Cambridge College of Healthcare and Technology
The Cambridge College of Healthcare and Technology prides itself on its state-of-the-art programs, qualified faculty, and modern technology. They offer both financial assistance and career placement assistance to help you get started.
Tuition: $46,350
NCLEX Pass Rate: 75%
10. Lake-Sumter State College
Lake-Sumter State College was founded in 1962 and is ranked among the best community colleges in Florida. Lake-Sumter seeks to deliver students to success through personal attention, flexible pathways, and academic excellence.
Tuition: $1,464
NCLEX Pass Rate: unavailable
11. Gwinnett Institute
Gwinnett Institute believes that each person is unique and provides an atmosphere of mutual respect and student support. They strive to give students career-focused education to help them gain entry-level positions to start their careers.
Tuition: $5,634
NCLEX Pass Rate: varies
12. Southern Technical College
Southern Technical College has seven campuses, and they're only growing. They're dedicated to preparing students for entry-level positions through exemplary staff and modern curriculums. They have partnered with employers and incorporated their needs into their programs to best prepare students for a successful beginning.
Tuition: $12,924
NCLEX Pass Rate: 72%
13. Valencia College
Valencia College was founded in 1967 with only a few portable buildings. Now, they are a recognized community college in Florida that is dedicated to providing academic excellence to students seeking to build their own future.
Tuition: $1,345
NCLEX Pass Rate: 100%
14. Lake Technical College
Lake Technical College became a public charter school in 2004 and is now an integral component of the community. LTC provides access and innovative learning methods to students who are willing to work for their dreams.
Tuition: $3,888
NCLEX Pass Rate: unavailable
Methodology
From the list of schools we obtained, we sorted them through average tuition, acceptance rate, class size, and more. Each school has been hand-picked and ranked accordingly, and every school has something unique to offer so it's worth looking into each one. Please contact us with any questions about the Nursing Schools in Central Florida.
For more programs check out our BSN programs page.