Nursing Schools in Reno NV
Looking for a nursing program in Nevada? You're in luck. Anyone interested in nursing schools in Reno NV needs to know that the prognosis for a nursing career is good. According to the Bureau of Labor Statistics, nurse employment in the United States is expected to grow by a whopping 12 percent between 2018 and 2028, which is one of the highest rates of employment growth out of any career. And with median salaries near $75,000 (May 2019), this is a career path that allows individuals to earn well.
Good Prospects for Graduates of Nursing Schools in Reno NV
With an older patient population afflicted with more health conditions than many other states, Nevada stands out as facing a growing nursing shortage. Specific to Nevada, the number of nursing jobs is expected to increase from its current number of 25,800, to approximately 33,900 by the year 2030. In fact, the U.S. Department of Health and Human Services has previously noted that by the year 2020, the number of registered nurses in the state of Nevada will fall 27.5% under what the state needs.
But unlike states that participate in the Enhanced Nursing Licensure Compact (eNLC), nurses in the state of Nevada need to proceed to the state Board of Nursing and apply for a license directly there. For a nurse with a license in the state, the lack of participation in the eNLC does have the silver lining of protecting their jobs to some extent from travel and other nurses. In order to meet the growing need for nurses, Nevada needs to grow and certify more of its own nursing force. If you're closer to Las Vegas, check out our rankings for the best nursing programs in Las Vegas, NV.
1. Truckee Meadows Community College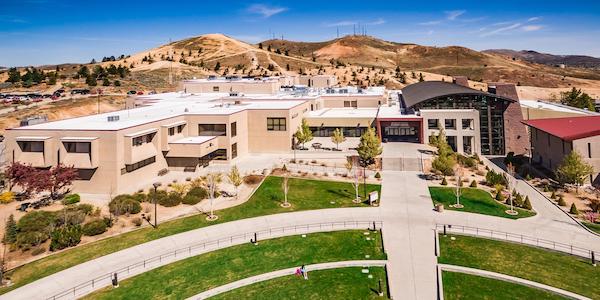 Upon graduation, students receive an Associate Degree in Nursing and traditionally go on to hospitals or community clinics. One feature of this program is that they have extensive support options from academic advisors, counselors, and career advisors, all free with their tuition. From financial through mental health support, Truckee Meadows Community College specifically calls out Support Services for Nursing Students as one of its stand-out offerings. With the extent of academic and personal support offered, it is no surprise that the NCLEX first-time pass rate is as high as it is.
The courses offered in the program range from nursing skills through professional behavior, medical terminology through pharmacology. One standout course offered in this program focuses on the Cultural Aspects of Nursing Care, which explores the various elements of diverse backgrounds—including gender, race, age, religion, and ethnicity—and how they can come into play for both nurse and patient within the healthcare setting.
Tuition per credit hour: $60
NCLEX First-time Pass Rate: 97.5%
Program Length: Six semesters
Accreditation: Accreditation Commission for Education in Nursing (ACEN)
2. University of Nevada – Reno
The University of Nevada's Reno campus features a nursing program at its Orvis School of Nursing with several different offerings including a Bachelor's of Science in Nursing (BSN), Master of Science in Nursing (MSN), and Doctor of Nursing Practice (DNP). There is even an advanced graduate (post-Master's) certificate. This nursing school is the oldest in the state, having been founded in 1956.
There are three main courses of study offered at this campus. One is the traditional 16-month bachelor's of science (BSN) in nursing program, which accepts high school graduates as well as people who already hold an associate's degree. There is an accelerated BSN program that takes only twelve months to complete, although applicants to that program need to have already completed a bachelor's degree; it's a very good option for people seeking a career change. There is also an RN to BSN program offered at this campus, which takes place completely online and is designed for registered nurses who want to upgrade to a bachelor's degree in nursing. Often, having this degree can be a critical step in earning more pay.
Tuition per credit hour: $233 – $389.75
NCLEX First-time Pass Rate: 92.5%
Program Length: Four semesters (can be longer depending on whether students chooses to take on further coursework)
Accreditation: Commission on Collegiate Nursing Education, National League for Nursing Accreditation Commission (NLNAC)
3. Carrington College – Reno
Carrington College touts its capacity to make graduates competitive and ready for the real world, both for passing the NCLEX-RN exam as well as starting up entry-level positions upon graduating. Part of how they do this is by matching you up with externships, clinical rotations, and fieldwork. Graduating from this nursing program with real-world experience under your belt, combined with a Bachelor's of Science in Nursing, prepares you to be a more competitive applicant for higher-paying nursing jobs at more prestigious institutions.
The tuition might be pricier than some other programs, but Carrington College notes that loans, grants, and scholarships are available to qualified students. Calling the Student Finance Department to set up an in-person appointment is the best way to work together to find a way forward. Cost should not prohibit anyone from pursuing their academic goals. This individualized attention to meet the needs of every student—both in the classroom as well as outside—is something of a competitive advantage for Carrington College, and something to consider as you choose from the nursing schools in Reno NV.
Tuition per credit hour: $693
NCLEX First-time Pass Rate: 91%
Program Length: Four semesters
Accreditation: Accreditation Commission for Education in Nursing (ACEN)
How was this ranking put together?
Several critical factors were considered in parallel in order to rank the top nursing schools in Reno NV, but the heaviest weight was placed on NCLEX-RN Pass Rates as well as annual tuition. The NCLEX-RN Pass Rate is a good, standard measure of the education and job preparation inherent to the school, and therefore can be used as one quantitative measure of individual return on investment. Annual tuition rate, on the other hand, denotes the cost of the nursing program; in many ways, it is also a temperature gauge of the accessibility of a program, since fewer prospective students will likely be able to attend and afford a more expensive nursing school. Top schools must be able to accommodate a diverse body of high-achieving students.
Please contact us if you have any other questions!